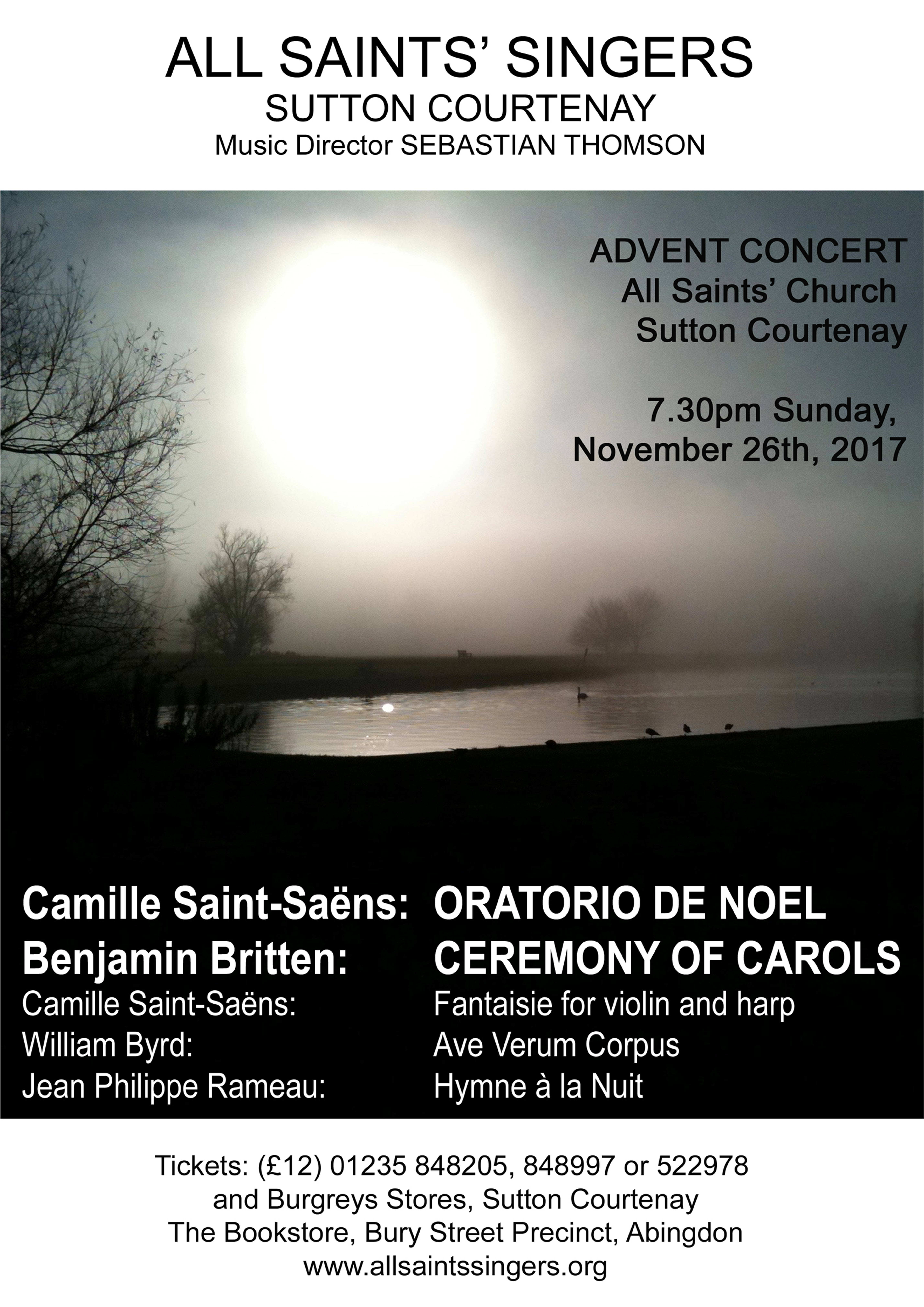 Camille Saint-Saëns Christmas Oratorio: Op 12
Jean-Philippe Rameau Hymne à la nuit
William Byrd Ave Verum Corpus.
Benjamin Britten Cermony of Carols: Op 28
Camille Saint-Saëns Fantaisie for violin and harp: Op  124
We received the following appreciation from one audience member:
I have been to a number of concerts given by your excellent group and I find that once again my worst fears were confounded. Every time I'm impressed with the difference of your programme selection. For example, the Bonocini 'Stabat Mater' and the wildly different Zelenka 'Miserere' were two concerts I enjoyed enormously.  As someone who regularly attends choral concerts I have a sense of relief when I don't have to listen to yet another mass or requiem by Bach, Mozart, Faure or Handel (great composers as they are and mainstays of the choral repertoire.)
To come to a programme of Saint-Saëns and Benjamin Britten therefore is both enjoyable and unusual. The inclusion of the harp and violin 'Fantasie' balanced the evening beautifully and created a welcome opportunity to reflect on the sheer diversity of Saint-Saëns' music. What a find this young and talented violinist Elizabeth Nurse is!
The opening two unaccompanied pieces were well rehearsed and whilst 'Ave Verum' is sung frequently the adjoining selection of Rameau's hymn of lament was an unusual and inspired choice. The choir gave both of these pieces a sense of timing and delivery which started the evening well.
The 'Christmas Oratorio' was delightful, the soloists here were well balanced and sung beautifully, with the choir once again well-rehearsed and singing with a sensitivity, especially in the 'Gloria Patri', that I found quite moving. The work was new to me, and many in the audience also, and one I should like to hear again.
Britten's 'Ceremony of Carols' I have heard many times before and usually with just treble voices, so it was a great pleasure and surprise to hear the lower registers join in with this arrangement. No doubt there has been much discussion on how to pronounce middle English but my view is that if one sings loudly and enthusiastically enough then nothing is lost in the interpretation, and I did indeed feel "Wolcum." The icy coldness of the interlude had the audience spellbound and surprisingly breathless with concentration (well done Anneke Hodnett whose playing throughout the evening was to a very high standard) and the whole work was delivered by choir and two soloists to my complete enjoyment.
Thank you, All Saints' Singers for the concert, the mulled wine and the minced pie.   I shall come again!
And Patrick Salisbury wrote:
Dear David,
This was certainly a most successful concert. It was ingenious to devise such a varied programme with accompaniment by an orchestra comprising only strings and continuo but with the addition of a superb harpist. In the event, many of us were introduced to a peaceful Rameau Hymn and a fine Christmas Oratorio by Saint-Saens. In the latter, the chorus really came into their own with outstanding contributions by the five excellent soloists
To begin the second half of the programme, it was a bonus to have our new orchestral leader Elizabeth Nurse joining the harpist Anneke Hodnett in a wonderful performance of Saint-Saen's beautiful "Fantaisie". Inevitably, Britten's "Ceremony of Carols" provided the climax to the concert; here the choir sang with accuracy and understanding, employing subtly contrasted dynamics. Again, the presence of a dedicated harpist must have given them that extra incentive to excel. Although one might say that, in this concert, the choir did not have as major a role as might normally be the case, their contribution was always well prepared and carefully presented.
Altogether a most enjoyable occasion, a view obviously shared by the larger than ever audience. I do hope Sebastian Thomson will stay with us!
With very best wishes – Patrick
Choir members should log in to read more