We are organising another great entertaining and fund-raising event. It will take place at Drayton Village Hall on Saturday April 22nd at 7.15pm for 7.45pm. Another evening not to be missed!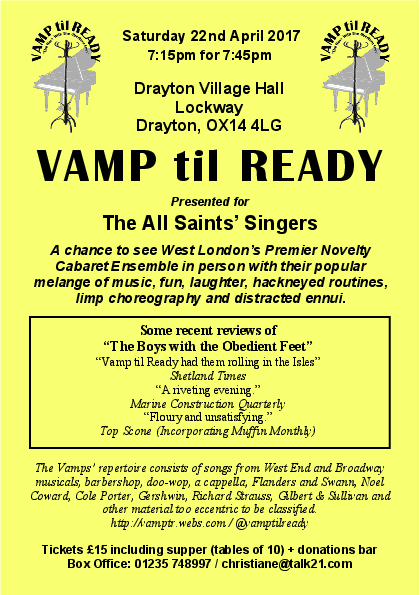 Vamp til Ready is a tremendously funny and mightily accomplished song-and-dance act that had many of us in stitches earlier this year. Our own Martin Elliff is one of its stars.
It is vital that our fund-raising social events are well supported. Please help us in our efforts to provide high quality concerts. We are a small village choir that 'punches well above its weight' in the quality of our concerts because we engage professional musicians and singers: this costs, as we're sure you appreciate.
Tickets are £15 per person for the entertainment and a full meal. We are aiming to sell these places by tables of 10. Some of you, we know, can guarantee a table. If not, please contact Christiane and she'll be able to place you on a table with your friends.
Please help by doing your bit to promote the event to as many people as possible.   We need over 100 people to make it a rip-roaring success and balance the books for this year… and have a memorable evening.